Area 1 is the first section of the network, themed by the Nile River. Color scheme is orange and green. This section is protected by the Earth Firewall.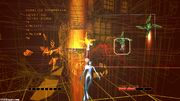 The song is "Buggie Running Beeps" by Keiichi Sugiyama. This is also the only level where the music and sounds are both made by the same artist.
CU1
LC
TM
IFS
IU5-300
Earth
Ad blocker interference detected!
Wikia is a free-to-use site that makes money from advertising. We have a modified experience for viewers using ad blockers

Wikia is not accessible if you've made further modifications. Remove the custom ad blocker rule(s) and the page will load as expected.